CASPER, Wyo. — Casper had plenty of things to like when Diane and Joseph McGinley moved here a dozen years ago.
The mountain, people, and job opportunities being among them.
One other thing also stood out to Diane: A bank.
"I immediately noticed it," she said, "and I thought, 'What is this beautiful midcentury modern building doing in the middle of Wyoming?'"
At the time that building was a Wells Fargo branch on the corner of East 1st Street and South Durbin. Commissioned by the long-defunct Wyoming National Bank, it was designed by acclaimed Denver modernist architect Charles Deaton and opened in 1964, at the height of Casper's post-war energy boom.
The round, domed banking lobby consists of 17 leaf-shaped blades, cast in molds on site from concrete and weighing 21 tons each, according to the Society of Architectural Historians. The lobby was then surrounded by an office building that hugged the dome.
Diane couldn't help doing some research on the building, and soon became something of a Deaton superfan.
"I love his quote about how people are not rectangular and buildings shouldn't be either," she said, "and he went with those themes of having a lot of soft lines and different shapes rather than just squares and rectangles."
Diane and her radiologist husband run multiple businesses related to musculoskeletal radiology and sports medicine, and also hold more than 120 patents thanks to their development of specialized medical equipment. When Wells Fargo decided to put the aging building up for sale a few years ago, Diane, who is Director of Operations of the McGinley companies, saw an opportunity to put all of their operations under one very unique, round roof.
They bought the building, and embarked on a three-year, multi-million-dollar rehabilitation and renovation. That meant asbestos removal, systems upgrades, maintenance on the electrical and plumbing issues that had been ignored for decades, and modifications of the office areas into medical clinics and diagnostic centers.
"Sixty-five percent of our patients come from out of state or out of country," she said, "and I really wanted them to come in here and have the space reflect the level of care they're receiving."
The building makes a statement, she says, especially considering their goal to provide destination medicine to people from around the globe, including Olympians and professional athletes. "It's a building that lets you know you're in Casper and not in just any other city," she said.
As the new offices and clinics materialized, Diane started putting more focus on the building's most striking feature — the huge rotunda.
Diane said she wanted to use the space not only as a lobby for the clinics by day, but also a performance and events venue by evening.
"I realized how beautiful the windows are in this space, and if you took away the bank teller station we could really open it up and share it with more people," she said.
That part of their business is now christened as Events at the M, which started taking bookings this month. But there was still a lot of work to do before getting to this point.
Over the decades, Deaton's clean, open creation was cluttered and modified for various practical reasons. Wells Fargo put their bank teller kiosks smack in the middle, and the once-tall dome was covered with a lowered ceiling in part to tame some wild echoes and reverberations.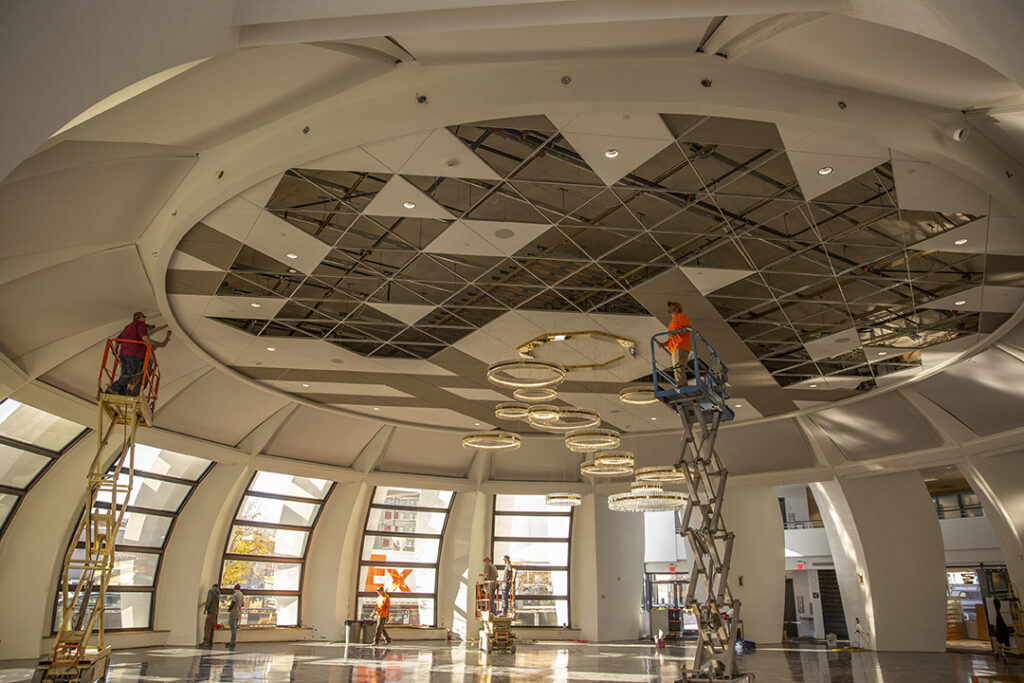 A unique lighting design by Deaton that used hundreds of wavy plastic modifiers over the entire ceiling covering fluorescent tubes had also been long removed, so Diane and the remodeling team started from scratch.
Acoustic engineers from Denver were hired to help with the ceiling design, which ended up utilizing specialized panels to deaden the sound and absorb echoes just enough that the room sounds live but not unruly. It worked well enough that there was no need for digital sound-cancellation trickery, said Diane.
The lighting uses a state-of-the-art computer-controlled LED system that allows nearly limitless color, pattern and luminosity choices. In the center of the dome is a gold and crystal chandelier that she designed and had custom-fabricated. Lastly, layers of flooring were removed and replaced with a sealed black-and gold-specked treatment.
"It's really cool, and when we play music in here it sounds amazing," she said. "I think people will be able to have beautiful weddings and dance parties without issues."
Diane says combining a destination health clinic with an events space is unusual, but she wanted to find the best way to share Casper's most unique building with the community.
"It's about being able to share, to bring in events for nonprofits and weddings, and create a premiere space that people can enjoy," she said.
Eventually she'd like the building listed on the National Register of Historic Places. To accomplish that, the building's exterior and even precise hue of white paint has been restored according to Deaton's plans.
"I really wanted to preserve the original intent of the building, and I think Charles Deaton would think this is pretty cool," she said. "I wish he was still around to see how his building is here and how it's going to stay here for many years to come."
---
Events at the M is accepting bookings for weddings and events. Inquiries can be sent here through its website or at its Facebook page.