CHEYENNE, Wyo. — Yesterday, Jessie Bell, an artist from Casper, Wyoming, made a new installation to her front yard.
Bell built a weeping angel out of scraps, pool noodles, Styrofoam, and concrete. The angel weights about 350 pounds. Bell built the angel in her garage and had to have it moved to the location it now sits at in her front yard.
Caspar Building Systems dropped in to help move the massive angel. It took the help of six strong men to move it. They were able to carry Bell's fragile work of art to its correct placement watching over those "who speed down McKinley."
The house on the corner of 4th and McKinley Street is always decorated in a Halloween theme, but this year they wanted to go all out. Their daughter-in-law is having a baby and her gender reveal party is going to be Halloween themed.
They started by just making headstones and decorating the yard with those until Carrie Bell dared her to make a weeping angel.
Bell started to make and gather materials for the angel at the end of September and beginning of October. It took her only a total of ten days to build it. She says the most time-consuming part was waiting for the cement to dry.
Bell built it with the help of Nancy Madura. The entire thing cost less than $100 to make, and they were happy to make something that normally costs $500 to buy from somewhere.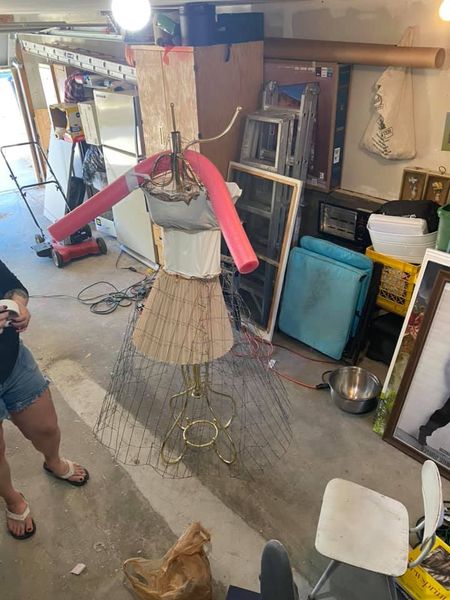 The idea of a gothic-style cemetery originated when Carrie and Jessie Bell traveled to Charleston, South Carolina last year and visited some old cemeteries.
The angel has come to life, and it will have moss and glowing eyes in the spirit of Halloween. When the holiday is over, the statue will remain in the yard watching over the street below.