The first week of October is Mental Illness Awareness Week in America.
The National Alliance for Mental Illness (NAMI) reports 1 in 5 adults living in the United States experience mental illness each year, while 1 in 6 youth ages 6 to 17 experience a mental health disorder. More than two-thirds of those who need care do not get it.
Depression is a common, serious mental illness that will not go away on its own. Only about a third of those suffering from severe depression seek treatment from a mental health professional. Screenings are often the first step in getting help. If you, a family member or friend have shown symptoms of depression for two weeks or more, it is time to consult a doctor.
There are effective treatments for depression, including medication, therapy or both. Wyoming Behavioral Institute in Casper is a primary provider of inpatient child, adolescent, adult and older adult mental health services in Wyoming. Outpatient youth telehealth services also are available.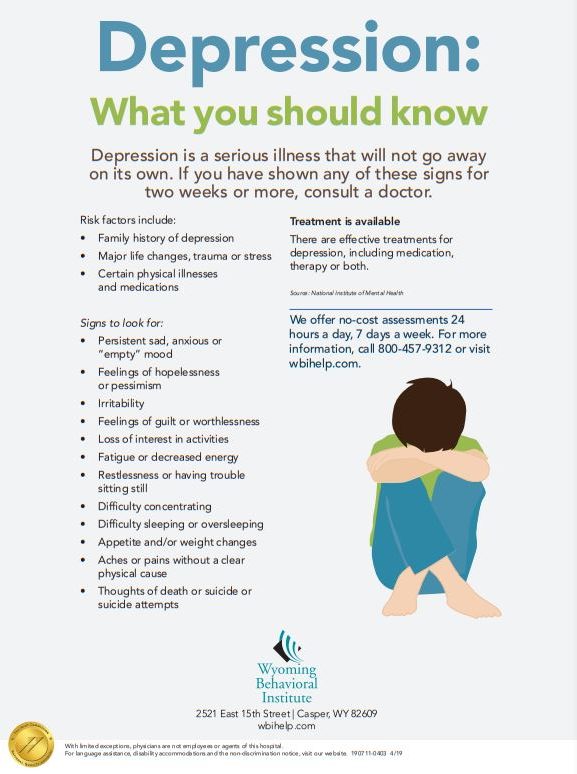 WBI offers no-cost assessments 24 hours a day, 7 days a week. For more information, call 800-457-9312 or visit wbihelp.com.
---
PAID FOR BY THE WYOMING BEHAVIORAL INSTITUTE
This article is a promoted post. The views, thoughts, and opinions expressed in the text belong solely to the organization that paid for the article, and do not necessarily reflect the views, thoughts or opinions of Cap City News, its employees or its publisher. Please fill out this form if you would like to speak to our sales department about advertising opportunities on Cap City News.